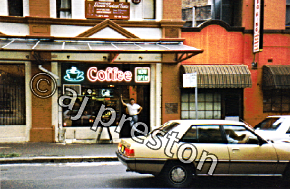 Moors from Labor Council Building
Alan Preston standing in the doorway
Note BBQ King signage top right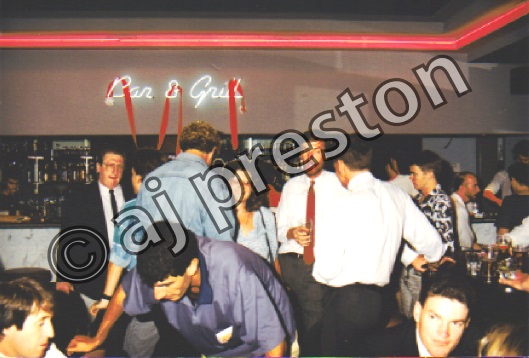 Star Hotel Opening Night
Wall to wall Labor Big Knobs. Bob Carr cut the ribbon and got the first beer poured after the refurb. BLF heavies knocked him off his feet for some reason.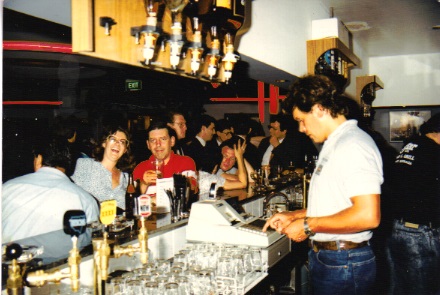 Laurie Ferguson at the Bar
Star Hotel Opening Night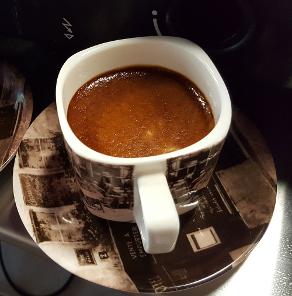 Flat White after 3 mins- ready to drink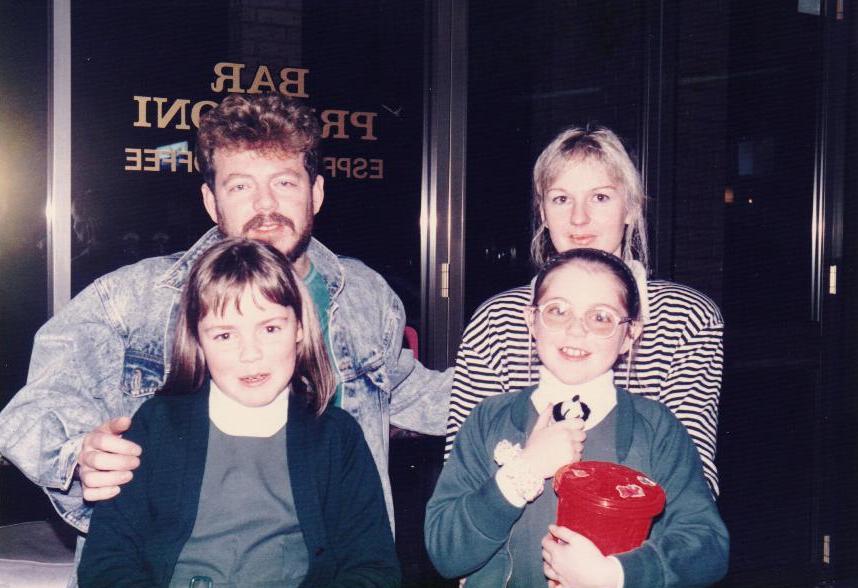 Preston Family at Bar Prestoni 1987
Back: Alan and Susan
Front: Danielle and Renee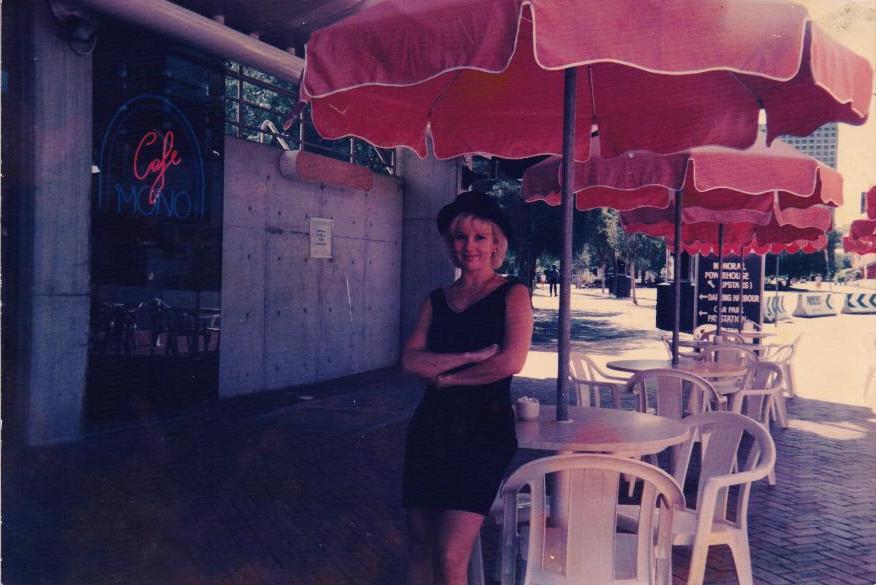 Susan Preston at Cafe Mono 1992. When the shows were on at the Sydney Entertainment Centre, 50 metres away from us, we would sell 400 coffees and 300 meals before the show went in. A typical show sold out, was 16,000 people. After the show the same crowd would come straight back and wait out the traffic delays. Our backdoor opened into the Secure Carpark which brought the crowds in easy as.
In the 80s and early 90s, Sussex St was the centre of the Australian Political Universe. Every aspiring political type made their way there sooner or later. Every Union of note was headquartered nearby and it was inevitable that Moors would be claimed by the Trade Union Movement who made it their Canteen. Many of those original Moors customers have gone on with it.
Take for instance, one bloke who presented on Moors opening day and then had his lunch at Moors, 5 days a week for the next 5 years - Anthony Albanese. He is the clear winner. Briefly rising to the eminent position of Deputy Prime Minister and now, leader of the ALP.
An affable, astute and capable fellow, whom we suspect might make it to Prime Minister if his colleagues are looking for a safe pair of hands.
Many Music Identities constantly coming and going from Sussex Street. Blue Harbour Studios was just across the road, run by the legendary backing guitarist Louie Shelton who played lead guitar on The Monkee's I'm a Believer, Last Train to Clarkesville. Lionel Ritchie's guitarist, Seals and Croft's Summer Breeze stands out. The list of his accomplishments is endless. In fact if you search his extraordinary resume there's just about no one he didn't back, John Lennon, Simon & Garfunkel, Neil Diamond, Ella Fitzgerald included. Musician's Hall of Famer. Now Louie Shelton is as far up the Australian music ladder as it gets and he is a Flat White customer at Moors from it's opening day. He recorded any number of successful Oz 80s Music Acts and they routinely got their coffee from Moors and Bar Prestoni. We think this is a significant part of the Flat White's spread around Australia
Also of note, and amongst Moors foundation customers - Anthony Albanese, Bob Carr, Michael Costa, John Faulkner, Anna Booth, John Della Bosca, Belinda Neal, Chris Raper, Stephen Loosley, John McBean, Michael Easson, Labor Lawyer Peter Cashman and a host of other Labor Identities, including Bill Shorten, Laurie Ferguson, Martin Ferguson, Peter Beattie and many more. Anna Bligh was a regular, before she went to Qld. John Laws and Mike Carlton, whose secretaries would mostly come from 2GB for their coffee. Laurie Oakes interviewed Paul Keating in Moors while Bob Hawke was over the road at Trades Hall.
The following extract from Alan Preston
"I remember Paul & Anita Keating sitting on one side of a bench and Oakes on the other.The Master Blaster (only The Treasurer in those days) had 2 Flat Whites and incredibly, Jabba backed up for 4 Long Blacks. We were scared he'd die. 30 years later he's still going strong."

Alan Preston 2015
There were any number of Entertainment, Television and Film identities who were counted as regulars. Matt Carroll, the legendary Film and Television Producer was a regular, as he had an office around the corner.
Tetsuya Wakuda, probably Australia's most successful Chef, worked at a Japanese Restaurant 50 m from Moors and he was a Moors regular. He opened his first Restaurant soon after in nearby Ultimo.
The Flat White travelled on the back of the Journos, Unionists, Politicians, Film & Music Identities and Tourists who were constantly coming and going from Sussex Street. Unionists from all around Australia would always be visiting Sussex Street. Nothing changes and in 2016, The ALP still rides high in Sussex Street.
Chinatown still attracts the Hospitality Trade after hours and it's easy to see how the Flat White got it's original surge. If Alan Preston hadn't opened up in Sussex Street but rather somewhere else in Sydney, then quite probably, the Flat White wouldn't have kicked on. We consider that the Flat White's spread has got as much to do with Sussex Street as any other single factor. If you ranked Australian Streets for their value then you would have to put Sussex Street in the top 5, Australia wide.
Too many Big Knobs to count in 1980's Sussex Street. The Flat White just happened to be in the right place at the right time. Not hard to see how it would have spread around the town and spread it did. 30 years later it has conquered the world!