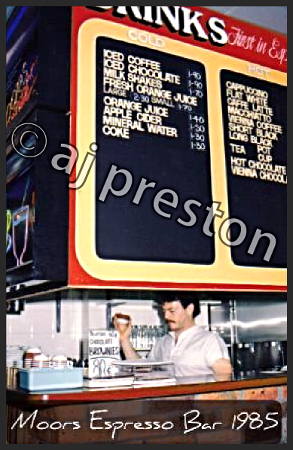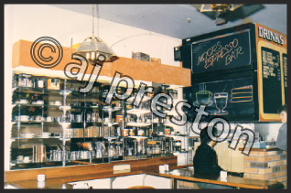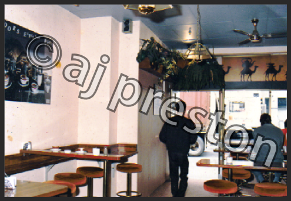 Note the camel mural. Looked fantastic at the time.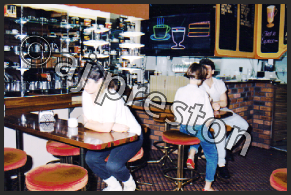 We had every piece of coffee paraphernalia for sale on our wall of wonder. Bit early and mostly went over the punter's heads.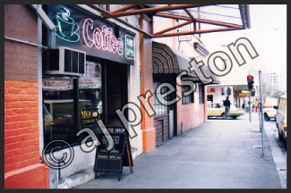 Moors from Sussex St. BBQ King next after Moors. Best roast duck, soya chicken and bbq pork outside of Hong Kong.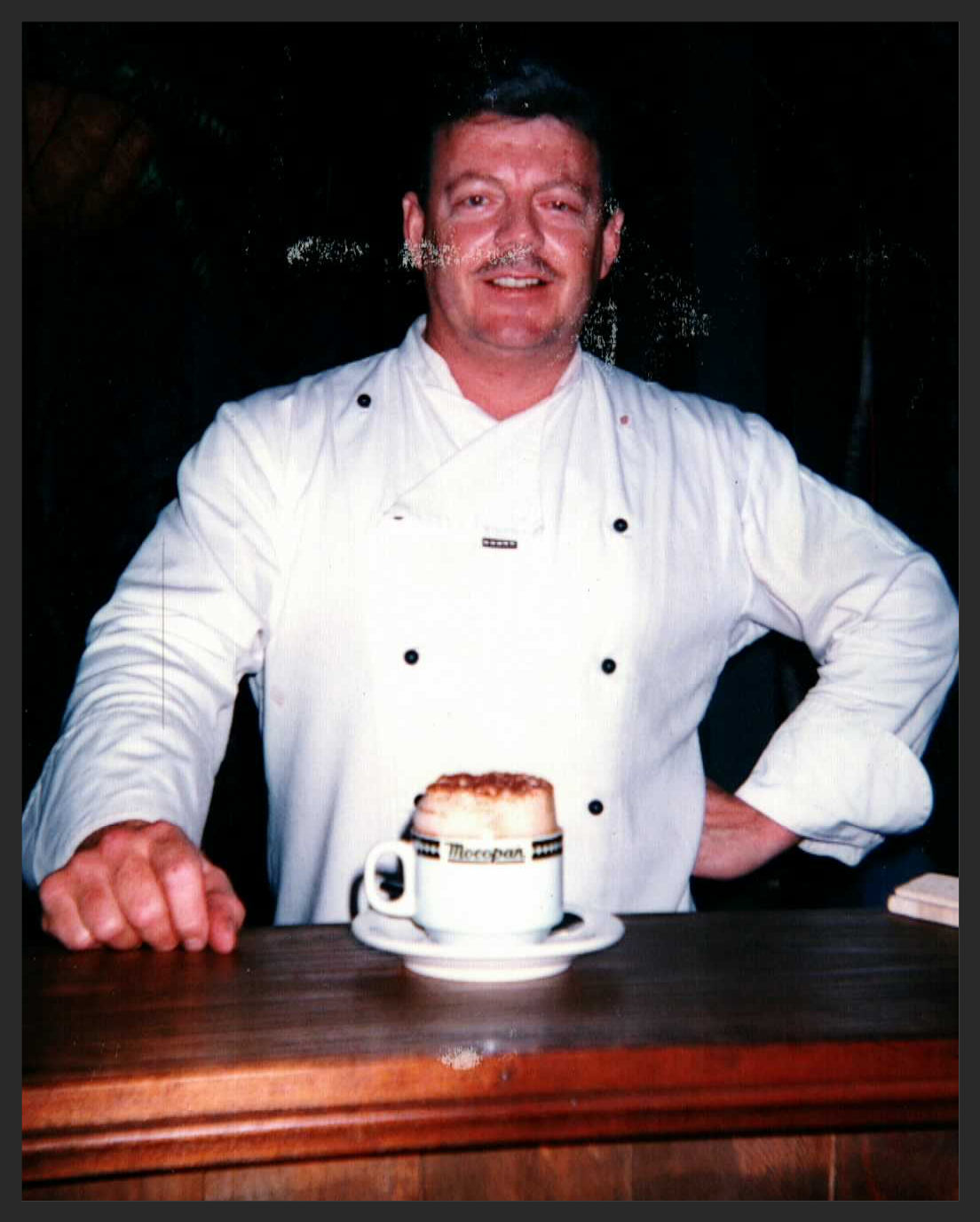 Alan Preston with '60s spec Cappuccino - 2004. Very easy to do if you know how.
The proof of all this is readily ascertainable in a number of ways. Firstly, the photos. The most important photo is the original Moors Menu (pictured left). The Sign was painted by Ron Smythe, myspace.com/ronsmythe, and his daughter Sharon Smythe. They also painted the Signs at Bar Prestoni, The Star Hotel and Pailou Bar.
This photo and many of the other photos were taken by Greg Nomchong, who at the time was a serving NSW Police Officer. He was a Detective Snr. Sergeant stationed at Central Police Station which in 1985 was on George St. (Now World Square) He is now retired from The Police Force and is running a business called Hellriders, a Motorcycle Hire Business.
Greg, a typical NSW Policeman ran a business with his wife Genevieve, from their Balmain home in the '80s. It happened to be a Photographic Business ( weddings etc) and so, many of the photos were taken with a fancy Nikon. (Greg's grandfather Lionel is one of the first professional Photographers in Australia).Their daughter Ming keeps the tradition alive these days and is a well respected professional photographer. mingnomchong.com
The Moors lease was stamped so a record of the lease will be held by the NSW Titles Office.
The following extract from Alan Preston
"The question of authenticity comes down to this - The photos are genuine and the originals are available for scrutiny. Is it the first proveable example of Flat White on a menu?

I am sure that if someone else had it on their menu before me, then we would know about it by now. At the minute, I have the only reasonable account of what is, the Flat White phenomenon.

The NZ claim is 4 years too late. I'd already opened 4 Flat White outlets and made 100,000 Flat Whites before they mysteriously invent it in 1989 in Wellington.

By the time I left Sydney in 1992, I know for sure that many other Cafe Proprietors had Flat White on the menu. I personally consulted to a few, who would ask me to help set up their coffee. The Cantarellas asked me to lecture at the new Vittoria Coffee School established in 1987 at their new premises in Silverwater, so it's guaranteed that my impact was starting to spread around Sydney as far as coffee goes.

THERE IS NO OTHER SYDNEY FLAT WHITE CLAIM.

No one else is putting their hand up as the Flat White Inventor.There is no specific Melbourne claim and it is only the New Zealanders who are bare faced enough to claim the Flat White. Upon closer inspection, their claim is a nonsense, 4 years too late and altogether feeble. Absolutely no evidence of any kind other than their shrill insistence that they did.

The customers can tell the tale. Many of the original customers are still around and it would be a fairly simple thing to ask any of them if the story is true. I have been in contact with a few of them who all readily endorse the tale.

I am amused by the current hoopla in the media about the Flat White. The speculation about the origin is presented as some sort of unsolveable mystery - 'Where did it come from?' they opine - 'It suddenly appeared out of nowhere in Sydney in the '80s- A Virgin Birth? without discernible parentage' -

This is what happened -

I SAW IT IN NQ AS WHITE COFFEE - FLAT IN THE '70s. I RENAMED IT FLAT WHITE & PUT IT ON THE MENU OF MY FIRST 7 ESPRESSO OUTLETS, STARTING IN 1985. OTHER PEOPLE THEN PUT IT ON THEIR MENUS. IT THEN WENT TO NZ & EVERYWHERE ELSE, FROM SYDNEY.

It is true, I did popularise the Flat White in the '80s around Sydney's Chinatown and without my consent it has gone on to Fame and Fortune!"

Alan Preston 2015
If you would like to talk to Alan Preston or if you have an anecdote about any of the 7 Flat White Outlets he founded, then please contact via email,or mobile 0419 771042, +61419 771042 if you're offshore.